[review] The air is steamy and the season for lounging on your rooftop and drinking fantastic white wine is here. Like any true oenophile or wine connoisseur, you would never allow yourself to indulge in the season's choice of beverage with anything but the best. Our latest obsession is a 2012 CÔTES-DU-RÔBLES Blanc from Eberle Wines out of Paso Robles. It's as crisp as a hundred dollar bill and does everything to satisfy the thirst for a truly great glass of white.
Gary Eberle is known as one of the great vintner pioneers out in California, launching his career with the establishment of Estrella River Winery & Vineyards. In the late 70's, he decided to pursue his own project and acquired nearly 64 acres just down the road from Estrella River Winery. Shortly thereafter, Gary released his first Eberle wine, the 1979 Cabernet Sauvignon debuting the iconic boar logo, depicting the German origin of the name Eberle, meaning "small boar."
We sat down with Gary for a relaxing tasting and chat about his love of wine and how it all began. He told us, "I had an epiphany while studying Cellular Genetics at Louisiana State University.  I had my first taste of 1st growth Bordeaux's with one of my professors.  It took a few tries, but at some point I was hooked and decided that I did not want to be a geneticist – I wanted to be a winemaker!  I transferred out to U.C. Davis in the late 60's and the rest is history."
The vineyard focuses on practicing sustainable farming methods such as cover crops, which helps control erosion and adds nutrients back into the soil, tilling the soil in between the vines when the vines are dormant which helps hold moisture naturally and also reduces the amount of irrigation needed. Planting the right varietals, in the right soil and then using our natural resources responsibly all contribute to a healthy vineyard and excellent fruit quality.
·Gary talked about his approach to winemaking—Start with good fruit sourcing and do as little damage to the grapes before putting it in the bottle. After that it's all about balance. Balance in and balance out. I love sitting at the front door of the winery, greeting people as they walk in and out, preferably with a glass Cabernet…Zinfandel and Syrah work also."
Part of what separates Eberle Winery from other vineyards is experience, longevity and consistency.  Gary admits he made mistakes years ago, back when Paso Robles wasn't even on the radar for being considered a wine growing region. He experimented with different varietals discovered what worked and what didn't work. Eventually he perfected the art of growing grapes and winemaking from there.  Because of his long history in the area and establishing the Paso Robles Appellation it's made the story of their winery unique and one to visit over the last 35 years.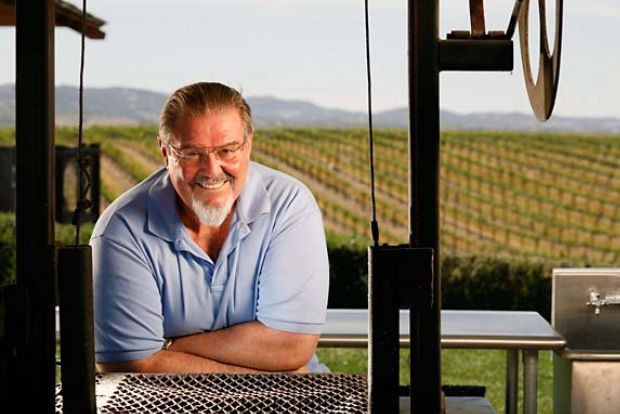 The 2012 growing season provided excellent conditions for another stellar vintage in Paso Robles. A relatively dry winter led to bud-break in early March, followed by a mild, dry spring. By June temperatures started heating up and the vines were well on their way to producing healthy canopy growth and uniform grape clusters. A nice heat spike in August brought the fruit into perfect ripeness, ready for harvest in early September. Overall, the 2012 vintage produced ample yields of good quality clusters resulting in remarkably well-balanced wines with vivid color extraction and intense flavor profiles.
After each varietal was hand-picked and completed the fermentation and nine month aging process, the final blend was completed and the result spectacular. The 2012 Côtes-du-Rôbles Blanc from Eberle Winery is a great example of an elegant white Rhône blend. The aromas suggest orange blossom and cardamom while the palate is filled with pear, lemon zest and drops of honey. The grace notes of floral, mineral and citrus zest are balanced by a refreshing thread of acidity.
The finish is refreshing and crisp, enjoyable as a young wine and intended to be consumed pretty much immediately. Don't let this one sit on the shelf too long, grill up some shellfish or delicate white fish and let your palate enjoy every sip.