It's an exciting year at the Okemo Resort in south-central Vermont. They have something seriously HOT this winter—a state-of-the-art, high-speed, six-passenger chairlift, the Sunburst Six. It's a first on this continent. Sure, we've all grown accustomed to the Gondolas out West but in the Northeast an old-school approach to skiing is still very much appreciated, and that mentality pervades down to the chairlifts. Hell, just a little further north in the Mad River Valley you can still find a single person chairlift. I never even knew that existed!
Here are just a few reasons to head North this weekend and have the getaway you've been daydreaming about:
7. The Bubble Chair, as affectionately nicknamed by the locals, is the best of both worlds. First of all, it's fun to see those little orange bubbles bob along the horizon as you ski towards it, knowing for a few short moments you'll be transported to a Floridian paradise before shredding the groomers beneath you. It's a brighter outlook on winter's many sunless days, and shelter from the storm on windy and blizzardy days—meaning more on-snow time for those affected by the elements. The heated seats are just a spot of sunshine on your freezing cold derriere, and it's actually easier than a Gondola—you don't have to take off your skis or board.
6. An excuse to use your Range Rover as its Maker intended. Heading North for the weekend means being about to get out of the city, out of the congested roads and finding serenity in the singular nature of VT Route 100. The further away from NYC you get the calmer the drivers are, the prettier the view is, and the stress just starts to leave your body. That stress could also be leaving your body if you happen to be driving a 2015 Range Rover, as we were, and enjoying the heated seat massage option as you drive or take the navigator role. Store the snacks and beverages in the console's mini-fridge and you could, theoretically, live in this car if you ever wanted to…and, man, does it handle that snow like a dream. Effortless. Poetic, even. Sometimes we forget what driving really means—it's not about the honking or parking or chaos—it's about trusting this thing to provide ultimate comfort while whisking you away from the hustle and bustle of the 'real world.'
5. The terrain. The mountain itself is a great intermediate tangle of runs, super diverse terrain with slopes that bounce in and out from black diamond to green circles so you don't have to commit to a steep shoot for an insanely long run. Even the double blacks are actually fun, and not so life threatening, and there are tons of 'hidden gems' to run to when the crowds line up. We highly recommend hiring a Mountain Ambassador for the day to show you around and help you get the lay of the land—our Ambassador, Bob, was so much fun to ski with, knew exactly where to go, and had coupons for free hot chocolate. Fun tip he taught us—you see a kid having a meltdown or getting scared, all Mountain Ambassadors are encouraged to ski by and give them a coupon for free hot cocoa. The sense that someone's looking out for them—or maybe the pure motivation of cocoa—works like magic!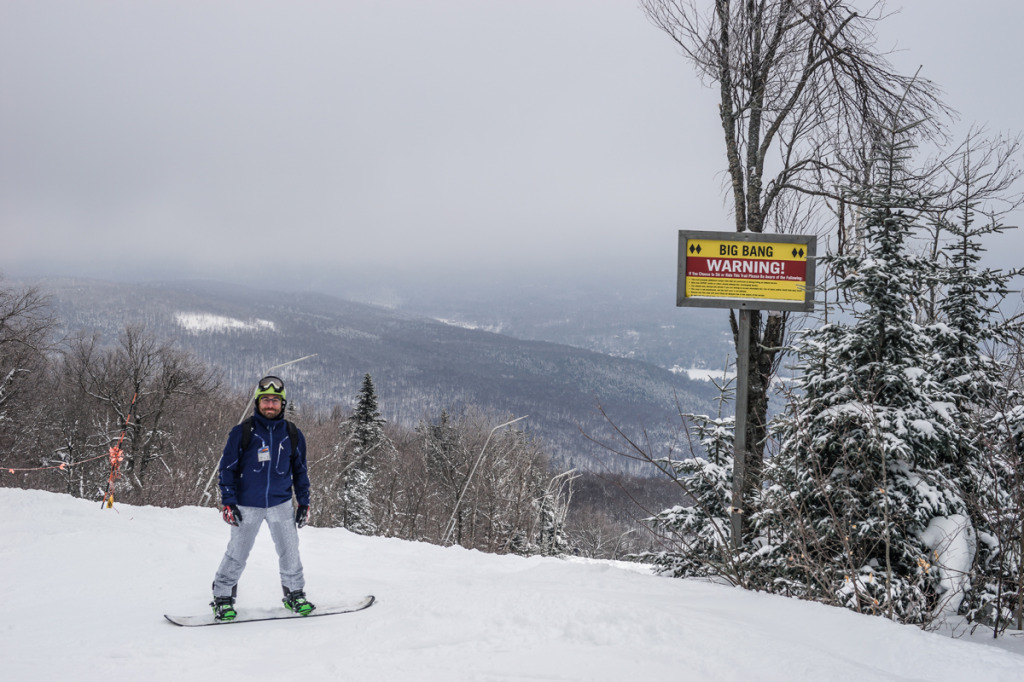 4. A mountain roller coaster. Whaaaat?!?! The Timber Ripper is a four-season attraction that offers a scenic and exhilarating ride through alpine forests and along the contours of the mountain at Okemo's Jackson Gore. Sled-like cars carry two passengers in comfort but can be handled easily by one alone. You control the speed, so the ride is as wild or tame as you'd like. The ride starts with a five-minute, 1,600-foot climb followed by a 375 vertical-foot descent along 3,100 feet of track that follows the contours of the mountain with added waves, camel backs, banking loops and a "twister" section, at speeds of up to 25 mph.
3. Local eateries Stemwinder & The Downtown Grocery. Stemwinder is a fantastic little wine bar with an impressive selection and refreshingly innovative small plates. The goal here is simple – to create a comfortable place for people to experience excellent and outstanding food, wine, service and company in a unique atmosphere. The small plates allow for a mind blowing tasting menu. The Downtown Grocery, run by husband wife team Abby and Chef Rogan, has a similar vibe, with a really cozy, charming and inviting dining space. The cocktails are out of this world – the Hemingway 'Daiquiri' description reads: Forget the frou frou, this is the real deal straight from Cuba with Appleton Estate rum, maraschino liquor, and hand squeezed lime chilled in a vintage coupe. End the evening here with their signature dessert, a Late Night Breakfast comprised of bread pudding like French toast, homemade buttermilk-bacon ice cream and candied VT bacon.
2. The people. Vermont just has the happiest people. Have you ever met a grumpy skier or snowboarder? I haven't. Not up here, anyway. Originally a small community-run ski hill, Okemo began to thrive when Tim and Diane Mueller purchased the ski area and transformed it into a popular, world-class resort that just improves with age. It's the ideal hub from which to launch family fun and adventure at any time of the year.
1. The number one reason to visit Okemo this weekend? It's just a hop, skip, and jump away from the city, there's snow on the ground, the sun is shining, and it's ski season! Get on those slopes while you can!